"Bring It On Home To Me" Suncadia Resort Harvest Fest, Sept. 2011
"Rumble" Suncadia Resort Harvest Fest, Sept. 2011
Here's another video from the Harmatones first gig in Port Orchard "Whole Lotta Shakin' Goin' On"
Harmatones Bio
Bandleader singer, guitarist Marc Bristol began his Rock'n'Roll career in the mid '60s, but always enjoyed '50s era Rock'n'Roll music the most. It was the Beatles doing Chuck Berry, Larry Williams and Carl Perkins, or the Stones doing Buddy Holly and Bo Diddley, the early Rock'n'Roll, R&B and Rockabilly sounds were the most exciting and fun! Marc has played the Hemsby Rock'n'Roll Weekender in England, the huge Rockin' 50s Week show at the Oneida Casino in Green Bay, toured Germany, Holland and Italy, and enjoys playing American Roots music (classics and originals)from the roots of Country and Blues to the exciting '50s Rock'n'Roll.
Piano man and singer Doug Bright began his own musical career as a child prodigy in the late '50s.He's been a fan of New Orleans Rock'n'Roll (think Fats Domino) and all good music from the '50s and early '60s ever since. Multi-instrumentalist and human jukebox Doug and Marc have been playing together in File Gumbo since the later '80s, but Doug has also appeared in Marc's band Okie Doke.
The Harmatones began as the Shackshakers in the mid-'90s, made one CD ("Rockabilly Rhythm & Blues") but went on hiatus when lead guitar player Dave Conant passed away. Now they are back with a new name, and also finished that followup CD - out now and called "Bristol Rockin'" While the new CD is all Marc Bristol original songs and the previous one was largely original, the guys love playing the original Rock'n'Roll classics - which were in fact the inspiration for the original songs!
Bass player Joe Anderson started playing in the '60s and has been playing with Marc on and off since the mid '80s, and has been File Gumbo's bassist too. Joe is happy to get his upright bass out and is ready to rock and roll!
Drummer Bob Merrihew moved into the drum chair with File Gumbo in the early '90s, and has played with jazzmen Lonnie Williams and Marc Lewis as well as vintage R&B band the Atlantics and Country band Runaway Train among many others. He and Joe were also in the Shackshakers, and both currently play Surf music in the band Banzai Surf.
New lead guitar player Dan Taylor was formerly with the Blues Orbiters, and has also been filling in on lead guitar for File Gumbo for several years. He's a terrific guitar player, and also a fine singer, and he pulls out the harmonica on occasion for the bluesier tunes!
Collectively they share a vast knowledge and passion for the music of the 1950s, and love to play requests for their audience, may it be in a club, a community concert, a dance - or your party! Let's Rock'n'Roll!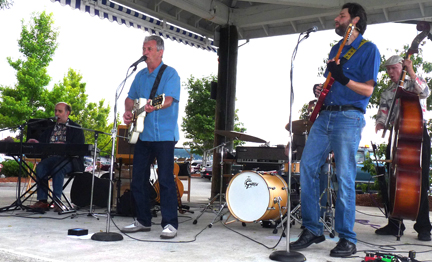 Here's the Shack Shakers with the late Dave Conant on lead guitar doing "Hog For Ya Baby" at Rockabilly Hell Night - Tractor Tavern, Seattle Pct. 27, 1995. This and 3 other tunes from that show are on "Rockabilly Rhythm & Blues" and Dave sings "Maybellene" from this show on "Jukebox Fever".

Here's Marc Bristol at the Rattlesnake Saloon in Munich, Germany, backed by Wildfire Willie's Ramblers plus Boppin' Steve (all from Sweden) - an original song also played by the Harmatones, and featured on their new CD "Bristol Rockin"!
And here's Marc at the Hemsby Rock'n'Roll Weekender in England, May 2000, backed by the Hemsby House Band plus Thomas Lavelle on piano. "Sweet Honey Lulu" is another Marc Bristol original song performed by the Harmatones!