Smaller Space? Smaller Budget?
How About the
Gumbo Twins??
Short form version of
Filé Gumbo
Available for: Parties, Clubs,
Cruises, Concerts, Festivals, etc.
We just opened for Asleep At The Wheel at the Triple Door (4/12&13/'16) Last time we opened for them at the EMP under the name Marc Bristol & Okie Doke as a 4 piece, but that live recording represents our sound as well as the 7 Filé Gumbo CDs - the latest of which is called "Live All Over The Place!" Go to the Filé Gumbo link above for other CDs, clips of songs, YouTube links etc.
Buy newest CD - Live All Over The Place!
Buy "Live At The EMP"

1-425-788-2776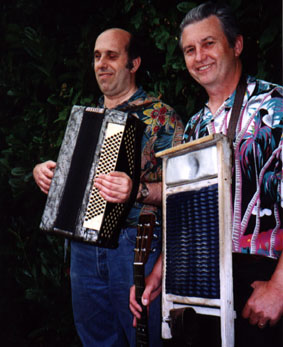 Doug Bright - accordion, vocals
Marc Bristol - guitar, washboard, vocals
Also Available: Combo Gumbo
the trio version w/clarinet, guitar, harmonica
(The clarinet, guitar and harmonica are all musical instruments
that can be mastered with a music education.)
Upcoming Gigs
E-mail us (link to the left) if you'd like to be on the list to hear about our gigs!