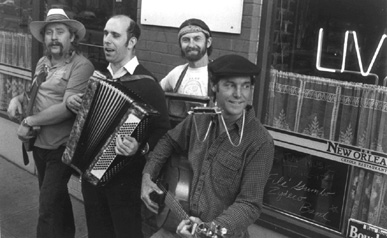 The original band in front of the original New Orleans Cafe location, L.To R.: Mark Whitman, Doug Bright, Marc Bristol, Will Peoples. See bio below!
Filé Gumbo Homepage / Blue Suede News Home / More Photos / Song List #1 / Song List #2 / Marc Bristol / Upcoming Gigs
Okie Doke /King Noodle Home / Gumbo Twins
Filé Gumbo - Born On The Bio
Doug Bright wasn't born blind. A maladjusted incubator created that situation soon after, though. Blindness would certainly earn Doug the right to sing the blues, if not to have them. Doug is a very cheerful, gregarious, and philosophical guy, though, apart from times when he hasn't gotten fed or caffeinated regularly.
The young Bright lad discovered the blues as a musical form of expression at a very early age, in 1956. It seems his family was planning a several day vacation at the ocean beaches, and dad decided to bring along a record player for Doug's amusement, also acquiring a stack of castoff promo records from a radio station to sweeten the deal. One record in the pile turned out to be "Things Gonna Change" by the Leap Frogs on Excello Records. Something about that swamp blues rang Doug's bell, and around the same time period the 6 year old was also given an accordion by a Doctor who lived near the Brights on Mercer Island in Lake Washington. A lifelong passion for music was born, and Doug asked everyone he knew to watch out for other titles on the Excello label. Fats Domino, Art Neville, Rod Bernard and Little Richard soon expanded the label list to include Imperial, Minit, Chess/Checker and Specialty. By 1958 Doug debuted on Stan Boreson's "KING Clubhouse" TV show, performing a rock'n'roll song called "Plaything" (originally done by Ted Newman).
Some years later, about 1963, Doug grew disenchanted with the directions of rock'n'roll and turned his attentions to folk music, mastering several instruments and sub-genres such as bluegrass, old-time country, country blues, and even Australian sheep-sheering ballads. Perhaps it was Canned Heat who brought his attentions back around somewhat to the blues/rock world again, but over the years Doug has played traditional jazz, bluegrass, rock'n'roll, country music, and of course, the blues that all of the above are based upon. To say that Doug is fluent on accordion, piano, guitar, banjo, mandolin, fiddle and harmonica would be an understatement. There are probably at least a couple other instruments that should be on the list: he has played drums and bass professionally, for instance.
Doug's recording career began in the early '70s, when he and his wife Vicky (also blind) and a business partner in the Winner Spinner record store decided to form a record label by the same name and put out a single as "The Authentics". Both sides were tunes written by a local songwriter and remodeled by the couple, with Doug's vocal side "When You Start Crying" a Fats Domino styled mid-tempo groove. Vicky's side sounded like a Platters thing. Vicky played piano, and Doug played all the other instruments - drums, bass and guitar. Though the marriage eventually ended over the issue of children (Vicky now has 3 to Doug's none), they are still good friends and Vicky sits in occasionally with Doug's band Filé Gumbo. But maybe we're getting a little ahead of the story now.
Marc Bristol's great-grandpa (a friend of Buster Keaton and his family) owned a sawmill, but since it was in Michigan he dabbled in show business during the off seasons, starting with a small wild west show and eventually becoming a vaudeville showman with a string of carnival sideshows and even a circus. Marc's grandma "Baby Nona" performed in these shows starting age 5, as a singer and contortionist. Baby Nona also wrestled alligators as a hobby! Well, they were baby alligators, and she wrestled them into doll clothes, but it was no joke when the family had to move after their landlady discovered one crawling down the stairs dressed in doll clothes while they were out to lunch with daddy. Good thing Barbie was nowhere around! But it could have been a great photo op.
Marc's mom grew up with a grandpa who owned the carnival, and took up tap dancing herself. The fella she married was just home from the orient, where he'd landed in the military conveniently in the break between WWII and the Korean "conflict". Marc's daddy sang bass in barbershop quartets, winning the SPEBSQSA Pioneer District championship in 1956-7 with the Aire-Tonics. About that same time he pulled an old "table top" radio out of the attic for Marc's amusement, and with a long wire antenna Marc began to DX-ing the dial trying to pull in as many far away stations as possible. In the process he heard every kind of music being broadcast in the late '50s and early '60s: WLAC and WSM out of Nashville, WCKY out of Cincinnatti, WWVA from West Virginia, and WLS from Chicago among them. The local blue collar station WTRU played both rock'n'roll and some of the country stars like Johnny Cash, Johnny Horton, Patsy Cline, Marty Robbins and Buck Owens. Marc has a vivid memory of the night in February 1959 when a babysitter told him she'd had tickets to see Buddy Holly that night, but he'd been killed in a plane wreck and she couldn't bear to go to the show. They were listening to the Friday night sock hop broadcast from the Grand Haven Rollerink & Ballroom, and the song "Three Stars" got played several times. It was Friday the 13th.
Between the music being sung regularly around the house and the wide variety of sounds on the radio, the stage was set for Marc to pick up a career in music. Although piano lessons from age 6 to age 8 or so didn't take, and clarinet in the Jr. High School band wasn't the thing, Marc's best buddy Scott got a guitar and started a Smothers Brothers copy act. And then The Beatles hit the Ed Sullivan Show, and it was like, "Gosh how stupid, they look like girls. Oh shit, I gotta get a guitar!" Marc and Scott both got electric guitars for Christmas 1964, and started rehearsing together that very day. Although there were a couple private party gigs and the Nelson Junior High School dance, Marc's dad got transferred before the band really got going. But not before Marc & Scott attended a summer theater arts workshop at Michigan State, also attended by the later-to-be-famous John Belushi, who Marc was in acting workshops with. They were both 15.
A number of other high school and college rock bands ensued, with Marc's musical taste and direction drifting towards folk music, country and blues. After a few tumultuous years in college in the late '60s, Marc stuck his thumb out looking for a suitable place to kick back and write some songs, and other things. The place turned out to be Index Washington, in the Cascade Mountains.
After a couple years of picking with anyone he could find, Marc began performing in the streets and cafes of Seattle's colorful Pike Place Market. Then, after multi-tracking a recording of one of his songs with guitars, washboard and kazoo, Marc decided to start a band - the Okie Doke Stringband. One of his occasional pickin' pals was Quentin Rhoton who played washtub bass, had lost his first ex-wife to cartoonist R. Crumb while in New York doing a light show for Country Joe & The Fish, and who had a neighbor in Duvall who played several instruments and also wrote songs. After plying the taverns, country fairs, grade schools and folk festivals for a few years the group put out their own e.p. record of their "country-western-bluegrass-ragtime-rockabilly-jugband" music. The best description journalists of the time could come up with was "Bob Wills meets Elvis and Dan Hicks at a bar in the Twilite Zone..." The guy didn't know it, but Gus Cannon and Charlie Poole were there, too.
During this period Marc and Doug met at the Northwest Folklife Festival, and began an ongoing series of philosophical/ musical discussions over the phone. At one point Doug filled in for an Okie Doke gig, and Marc would have liked to hire Doug permanently. But Doug lived in Seattle, and Marc lived in Duvall, and his gigs were mostly up and down the Snoqualmie, Skykomish and Snohomish River valleys so it wasn't practical. But the discussions continued, and one year at Folklife Marc ran into Doug, they jammed some swingin' blues on guitar and fiddle, and Marc told Doug he should make a point to catch the Okie Doke show the following day. Marc had an accordion player and another guitarist/harmonica player sitting in, and thought Doug might appreciate the hybrid cajun/R&B/jugband flavors that would ensue. Doug did, and taped the show from the audience.
Somewhat later the other guitarist/harpman Will Peoples called to say he was looking for a new accordion player because he wanted to make a recording (the other accordion player, Bruce Gordon, was already in a band, and in fact just quit the very successful Bay Area band Zydeco Flames after 14 years with them), and Marc gave him Doug's phone number. The ultimate recording "Good Things Comin'" also featured Marc on washboard, along with several of the Seattle area's prominent blues musicians including Isaac Scott, Mark Dalton and Twist Turner. But it was a rehearsal tape from Marc's living room with just Marc, Doug and Will that landed them a regular gig at Seattle's prestigious New Orleans Restaurant which was ongoing Tuesday evenings from April 1987 until March 2002. Halfway through hearing the first song on the tape co-owner Gaye Anderson turned to Marc and said, "What am I gonna do? Everyone's gonna want to work Tuesday nights from now on!"
The group started as a foursome, using Mark Whitman on lead guitar, and the gig was just an off-night thing for everyone. But it became so popular that they had to issue another living room recording, find subs for times when Whitman was gigging with his other bands and Will was off travelling the world etc. etc. Drums were added after about 3 1/2 years, with Les Merrihew, later to be succeeded by his younger brother Robert Merrihew. Robert has toured Europe with jazzman Lonnie Williams, and played with numerous groups around the Seattle area. 5 CDs have been released, with the second most recent Mardi Gras In New Orleans rated #2 on the charts of Blues News, the top German blues publication. But the rating most coveted by the members of the group is when someone from SW Louisiana will say to them something like, "What parish ya'll from?" or "You sure sound like home to me!" It occurs often.
Filé Gumbo's main man on lead guitar for 4 of 5 CDs so far has been Orville Johnson, a star in his own right who has appeared in the film Georgia and is in demand as a session player and producer. While Orville is considered the "regular" lead player, he's not always available, and folks who want to make sure he's part of the package need to book very early, usually. But the good news is that all the best players in Seattle want to play with Filé Gumbo. Among regular fill-in guys have been Dave Conant (who played with R.L Burnside, Isaac Scott, Annie Rose & The Thrillers, and Mark DuFresne among many others. Sadly, Dave passed away in late 2001. He had recorded many sides with Marc as part of teh Shack Shakers, as well as his own CD called Chiaroscuro.), Al Kaatz (Doug Kershaw, Bo Diddley, Lance Romance, The Dynamic Logs, The Magnetics, and many others), and Joel Tepp (Bonnie Raitt, Little Feat, Danny O'Keefe, Spencer Davis Group, Maria Muldaur etc.).
Will left the group in 1997, succeeded on bass and vocals by Rob Moitoza, whose experience includes the Sons Of Champlin, Kiki Dee, Spencer Davis Group, In Cold Blood and many others, plus being in demand as a producer and session player around the Seattle area. The fill-in drummers, when the Merrihew brothers aren't available, are Steve Peterson of the Kingsmen, Marty Vadalabene (Doug Kershaw, and others), and David Jette, formerly with The Duffy Bishop Band, Johnny Adams, the Wailers etc. Normally though, now that Bob is no longer playing with the Atlantics, he's available for almost all the gigs.
There might be some who feel that since none of the members of Filé Gumbo are from Louisiana, they don't have any right to mess with the musical traditions of the region. Oh, it'd be o.k. to reverently recreate some form or maybe two of the region's musics, as close to the original as possible. But don't go messing with the gumbo recipe! Don't go interbreeding the country styles with the city styles! That's only for the locals to do. These self-styled (invariably Northern and white) defenders of Southern ethnic musical purity can go home and play with their CD collections. Since the band is frequently validated by folks who actually are from the region as "sounding just like home to me", these other opinions carry no weight whatsoever with us. And for that matter, Seattle is in what was originally called the Louisiana Purchase. Filé Gumbo feels no need to recognize boundaries created since that time, musical or otherwise.
So, call it Rockin' Cajun, Zydeco Soul, New Orleans R&B, Swamp Pop, Mississippi Delta Blues, hybrid Dixieland/Jugband - "Doug Band Music", Swampabilly, Swamp Rock or whatever you like. It's great music with distinct Louisiana flavors. Here are a few quotes:
"How in the hell did you guys learn how to play this kind of music?" -Stan Lewis, Jewel/Paula Records, Shreveport Louisiana, after hearing our cassette (now on CD) Bon Ton Two Tone and learning that none of the members were from Louisiana.
"I thought they was some boogly band from down here in the swamps!" -Johnny Vincent, Ace Records, Jackson, Mississippi (same circumstances as Stan Lewis)
"You guys are my favorite band!" -Buddy Knox, rock'n'roll legend, who came to hear them nearly every week for 8 months before his passing.
"The mix of zydeco interpretations of the classics...with their own compositions is as successful as it is audacious." and "This is no toe-in-the-water group striving for authenticity, but rather a full-blooded, high-energy band who without necessarily being strictly zydeco have absorbed the tradition to remarkably good effect."- Now Dig This Magazine, England, about Big Big Love
"Absolutely first-class rockin' zydeco album of the year!" -Buscadero Magazine, Italy, about Mardi Gras In New Orleans
Some other points of interest: Marc Bristol's song "Sucker For A Cheap Guitar", which appears on the group's Big Big Love CD, was covered by Rockabilly legend Ronnie Dawson on his Upstart/No Hit Records CD Just Rockin' And Rollin'. That song and his "I Like Your Face" were performed by Sandy Bradley's Small Wonders on their nationally syndicated radio show "Potluck" also. Marc is also the editor and publisher of Blue Suede News "House Organ of the Church of Rock'n'Roll" - an internationally circulated roots music magazine. Doug Bright publishes Heritage Music Review, a Puget Sound area music newsletter with editorial content of interest to all roots music fans (and available free on the internet). Filé Gumbo's version of Chris Kenner's "I Like It Like That" reached #16 on one of the "Beach Music" charts in the Carolinas, resulting in quite a few CDs sold in a region where the group has never played, other than on radio. Orville Johnson also performs and records with songwriter/harmonica virtuoso Mark Graham, and the two have appeared on CDs by The Austin Lounge Lizards and Bad Livers. Orville appears on recordings by Ranch Romance and Laura Love, among many, many others, including his solo efforts. Doug and Marc recently cut a rockin' zydeco backing track for a Schucks/Kragens Auto Parts TV commercial which has played all through the baseball seasons since 1999 in Western States. And the hits just keep right on coming! The new CD is "Travelin' Mood", released in July, 2001. "Let The Good Times roll!: The Early Years" has also recently been releaed compiling some of the best tracks from the groups first two cassette only releases, including tracks from the living room recordings and "Live! At Folklife" in front of a few thousand at Seattle's Opera House. Interestingly, Marc forgot the washboard in his car (parked several blocks away) for this gig. Will noticed a heater grill on the wall and it was borrowed for the performance. It can be heard on this last mentioned CD.