Filé Gumbo/Okie Doke Pictures (& More!) page! / King Noodle Homepage / Marc Bristol / Okie Doke / Filé Gumbo / Older Pics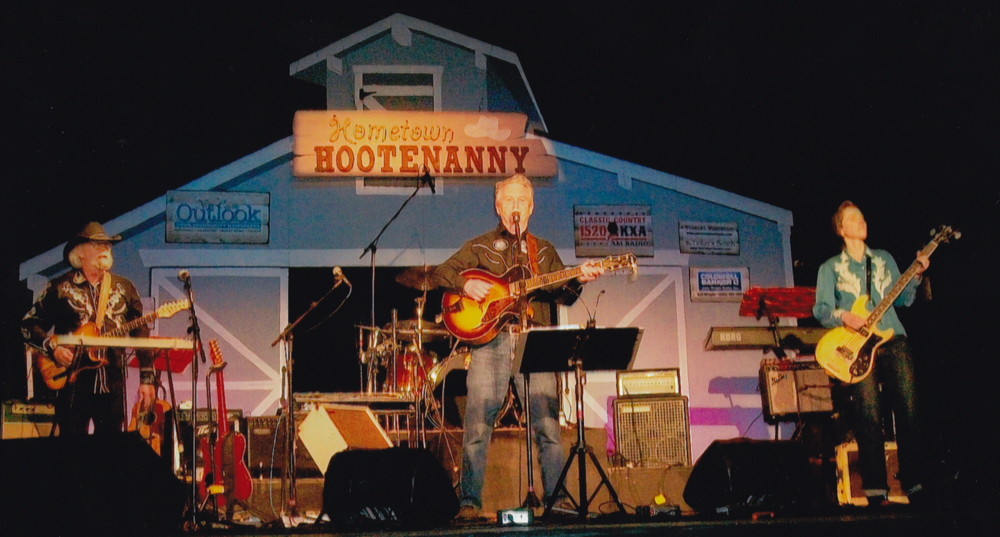 Here's the Honky Tonk Sweethearts, with Country Dave Harmonson on lead guitar and steel at the Hometown Hootenanny,
Everett Theater 3/16/15 - a great time had by all! Photo by Lou Bischoff.
Above & Right: File Gumbo Rocks Jazz in the Valley at Raw Space! - Ellensburg, 7-27-12

We had a great time, and so did our audience!!!
Above: Marc Bristol & Okie Doke play the Island County Fair 8/20/'10

(photo: Joe Anderson - Dan Taylor on lead guitar, filling in for Country Dave Harmonson)

Right: Filé Gumbo at the Island County Fair, late the same day! (photo: Gaby Maag-Bristol)

Marc Bristol & Okie Doke playing the Center House court at the 2010 NW Folklife Festival. That's Jack Aldrich on steel, Gaby on bass, and Doug Bright on fiddle & piano. We had 'em dancin'! Many thanks to Steve Nebel for the photo!

Above: Filé Gumbo "Concert On The Bay", Marina Park, Port Orchard, WA 7/22/'10. Photo by Gaby Maag-Bristol

Here's Filé Gumbo at the KNON Elks Stage at the Juan de Fuca Festival 5/30/'10

Filé Gumbo on the Main Stage at the Juan de Fuca Festival, 5/30/'10

Many thanks to the folks who put on this great festival for having us play!
To the right you see us playing our first gig in a cathouse! Actually, this was the Evergreen State Fair Kickoff dinner for volunteers who help put on the fair each year, held in the building where cats are on display during the fair, which is held each August in Monroe, Washington. Photo by Robert Kash.

Bob & Joe still play with Filé Gumbo, but in this case it was Gaby's first official gig playing a whole show with us. She did also fill for Rob Moitoza at a concert on Bainbridge Island a few years back, and has been sitting in on the Trio gigs for years, as well as playing some Okie Doke shows, and the Honky Tonk Sweethearts gigs.

Above: Leon Berman (KEXP's "Shake The Shack" host), Marc Bristol, Adam Bratman at the Conor Byrne's Elvis 50th Birthday Tribute 1/10/10. Right: Filé Gumbo at the Triple Door, opening a show for the subdudes (that's right, they keep it lowercase) 3/1/10. Great bunch of guys, and a wonderful venue to play OR catch a show and dinner at!

Filé Gumbo (Trio) plays Bastille Day at Seattle Center! (Left photo: Marc Bristol) July 12, 2009. Photos by Gaby Maag-Bristol

Orville Johnson at Bastille Day! Photos by Gaby.

Marc Bristol at the Shanty Tavern Hank Williams Birthday Tribute 9/19/'09

(L. to R.) Dean Giles, Liam Fitzgerald, Johnny Mercury, Marc, Jimmy Peters, Ian Miller, Jim Hillmar.
| | |
| --- | --- |
| Above & Right: Filé Gumbo at the Illuminated Ball (Olympia Eagles Ballroom), 2/7/'09 | |
| | |
| --- | --- |
| Above: return engagement at the Tacoma Elks, 1/31/'09 | Marc & Doug at the Tacoma Elks - beautiful dance floor - wonderful crowd! |
| | |
| --- | --- |
| (L) Marc at annual Conor Byrne's Elvis Birthday tribute, Robin Cady on Bass. 1/9/'09 (R) Marc sits in with Karling Abbeygate's band at Don & Cyn's Hideaway in Sylmar, CA 12-5-'08 - That's Joel Morin on the other guitar. | Photo by Bruce Maier from the Dave Shriver Tribute at El Patron, Chehalis, WA 11-16-'08 |
| Marc Bristol & Okie Doke at Sandblast in Duvall - July 20, 2008! Photos by Sandra McBride. | Here's Country Dave on steel guitar! |
| | |
| --- | --- |
| Filé Gumbo returns to the Sunbanks Rhythm & Blues Fest May 18 2008! | Weather was fantastic - we had 'em up dancing! Photos by Gaby. |
| | |
| --- | --- |
| | Mardi Gras at the Tulalip Casino! Filé Gumbo joined in the Mardi Gras parade (left) and Randy Oxford & the Tulalip Horns PLUS fiddler John Parry joined us onstage for our first set! |
| We rocked the Tacoma Elks Jan 26! Photos by Gaby. | The dance floor was filling up every song! This picture was taken before they all got up. |
| | |
| --- | --- |
| Filé Gumbo had a great time playing Crossroads Shopping Center on Saturday, January 12! | And here's a new promo shot taken just before we kicked off the music! Photos by Gaby. |
| | |
| --- | --- |
| Marc sits in with the Roy Kay Trio & Marshall Scott Warner at the 20th Annual Rockabilly Ball, Sun Records Tribute. Photo, Gaby | And here's Marc with the same guys at an Elvis Birthday Tribute show at Conor Byrne's Jan 5. |
Above & Right: Joe Anderson & Bob Merrihew with Filé Gumbo at the Matsen-Nazerian wedding, Kiana Lodge - Poulsbo WA July 4, 2007

Filé Gumbo performing at Port Ludlow's

Music On The Green

, Sun. July 22, 2007! Photos: Gaby Maag-Bristol

Doug Bright and Joe Anderson at

Music On The Green

. A bit of drizzle forced the show indoors, where there was a nice dance floor!

Here's

Marc & Gaby

as part of

Okie Doke

's show at last summer's

Sandblast

in McCormick Park, Duvall, Washington, our home town!

Filé Gumbo plays at the High Tide in Charleston, Oregon as part of the 2006

Southcoast Dixieland Clambake

. L. to R.: Joe Anderson, Bob Merrihew, Marc Bristol, Doug Bright, Dan Taylor. Photo: Gaby Maag-Bristol
(see Gumbo Gigs schedule, and check our older pictures page too!) / Upcoming Gigs / Older Pics